The Pearl Microfiber Towel | 16x16 320gsm | Interior & Coating Removal
*Scroll down to learn about our bulk mix and match towel/polishing pad deals*
THE PEARL is an outstanding towel for the removal and leveling of All Types of Ceramic Coatings. It's unique closed-loop pearl-weave construction has all the characteristics you need for safe, fast and effective work on coatings - lint-free, soft, removal "bite", and affordability with solid quality. The use of ceramic coatings is one of the fastest growing areas of automotive detailing and finding a towel that works well with all the various coatings offered has been highly requested. Now you have it in THE PEARL.

What we use it for at The Clean Garage: Our go to towel for removing Protective Coatings and dusting/cleaning interiors.
Size: 16 x 16 Inches
Color: Green
Blend: 80% Polyester / 20% Polyamide

Weight: 320 GSM (Grams per Square Meter)
Border / Edging: Overlock Stiched Edge
Material: 100% Split Microfiber (Pearl Weave)
Country of Origin: China
Recommended Uses:
Removal / Leveling of All Types of Ceramic Coatings (Paint, Windshield, Rims, Headlights, etc)

Sealant Removal


Interior Cleaning and Dusting

Excellent For Cleaning / Sealing Marble, Granite and Other Kitchen Counter Tops
Product Details:
Also Good for the Removal of Wax, Compounds and Polish

The Pearl-Weave Quickly & Easily Removes Dust and Debris

No Tags = No Scratches

Extremely Durable - Ability to Withstand Hundreds of Washings with Proper Care

Towel Softness Increases With Each Washing

Manufactured

on the

Highest Quality German Microfiber Production Equipment

(Karl Mayer)
Microfiber Towels are one of our most discussed topics with our customers at The Clean Garage. After years of trial and error testing almost every brand on the market we have put together a collection of our favorites. Each towel we offer has been hand tested by the team at The Clean Garage and found to have the best mix of performance and value. We don't want our customers to go broke buying towels just because some guy repackaged them and put his name on the bag. When you look at our collection take note that each towel is offered in a different color to help simplify your detailing routine. We suggest you use one color towel for each segment of your routine. With each towel in our collection you will find the GSM which is the weight per square meter of material, the material composition, the size and our suggested uses. If you have any questions about our towels or which one to use feel free to send us a message using our contact form or email , we would love to hear from you!
Part of our bulk mix and match towel and polishing pad deal:
Buy any 5-9 single towels and pads and save 10%
Buy any 10 or more singe towels and pads save 20%
Discount taken in cart once qualifying items are added
CARE INSTRUCTIONS: Machine Wash with Mild Liquid Detergent (Free of Dyes, Fragrances, Bleach and Softeners). Tumble Dry Low, and Do NOT Iron. Do NOT Use Any Fabric Softener as this Clogs the Microfibers and Reduces Performance. Do NOT Use Chlorine Bleach. Wash Only with Other Non-Linting Materials (NO Cotton!) to Maintain Proper Dirt-Gripping Properties.
Always wash new microfiber towels prior to first use.
Always wash newer black, orange, red and other dark colored towels separately from lighter colored towels to mitigate the risk of dye bleeding.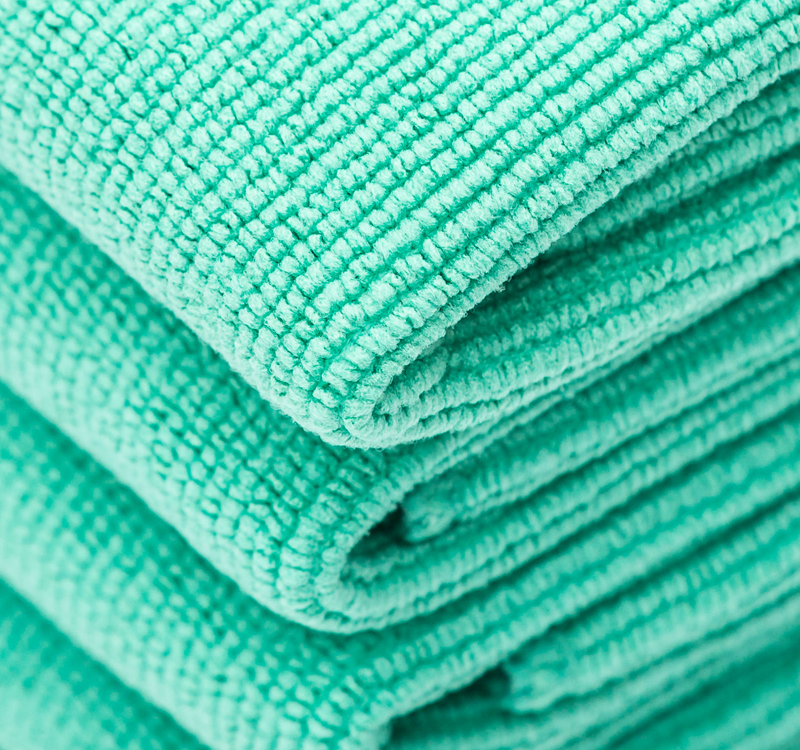 I had used cheaper coating removal towels in the past and they worked, but these are far superior. These pick up the residue very easily and glide across the paint very nicely. These are also slightly thicker than other coating towels so I found myself being able to use these longer before they became loaded up. Overall, these are great towels and are my new go-to when doing coatings.